When creating a plan for a new website build, it is challenging to know where to begin. There are so many factors that go into designing even one page of a site that web developers can feel lost without a specific direction to take. A great way to correct this problem and make your website a consumer-focused place is to develop personas. This allows the web developers to have an in-depth description of the different users to understand how these groups will react to different elements of the site.
This post will teach you what a persona is, how to create them, and how to use them when building your own websites in the future!
What is a Persona?
A persona is a fictional character that is created based on the main demographic groups of a website. The simplest definition of a web persona is: "a summary of the characteristics, needs, motivations, and environment of a key type of website user". They should answer these three questions about user groups:
Who is this person?
What are their goals?
What are their pain points?
In a world full of mass competition, it is important to make sure the website you build, or business you create stands out from the rest. By utilizing personas, you are enabling your company to create the best user experience which leads to positive brand association. Each persona includes a chart with a "score" describing their knowledge in different areas of the industry: tech savvy, willingness to change and general knowledge of the product or service at hand.
Persona Characteristics
Demographic
Age
Gender
Occupation
Locations
Employment
Psychographic
Personality
Interests
Lifestyle
Attitudes
Behavior Patterns
Mentality
Values
After conducting research and compiling all the data you should have all these characteristics included. You then add a photo of what this person may look like. This allows you to become connected with these personas and really understand the people you are trying to reach.
Examples
Before learning the specific steps to create them, I'd like to show you some acceptable personas, so you have a general idea of what you're working towards: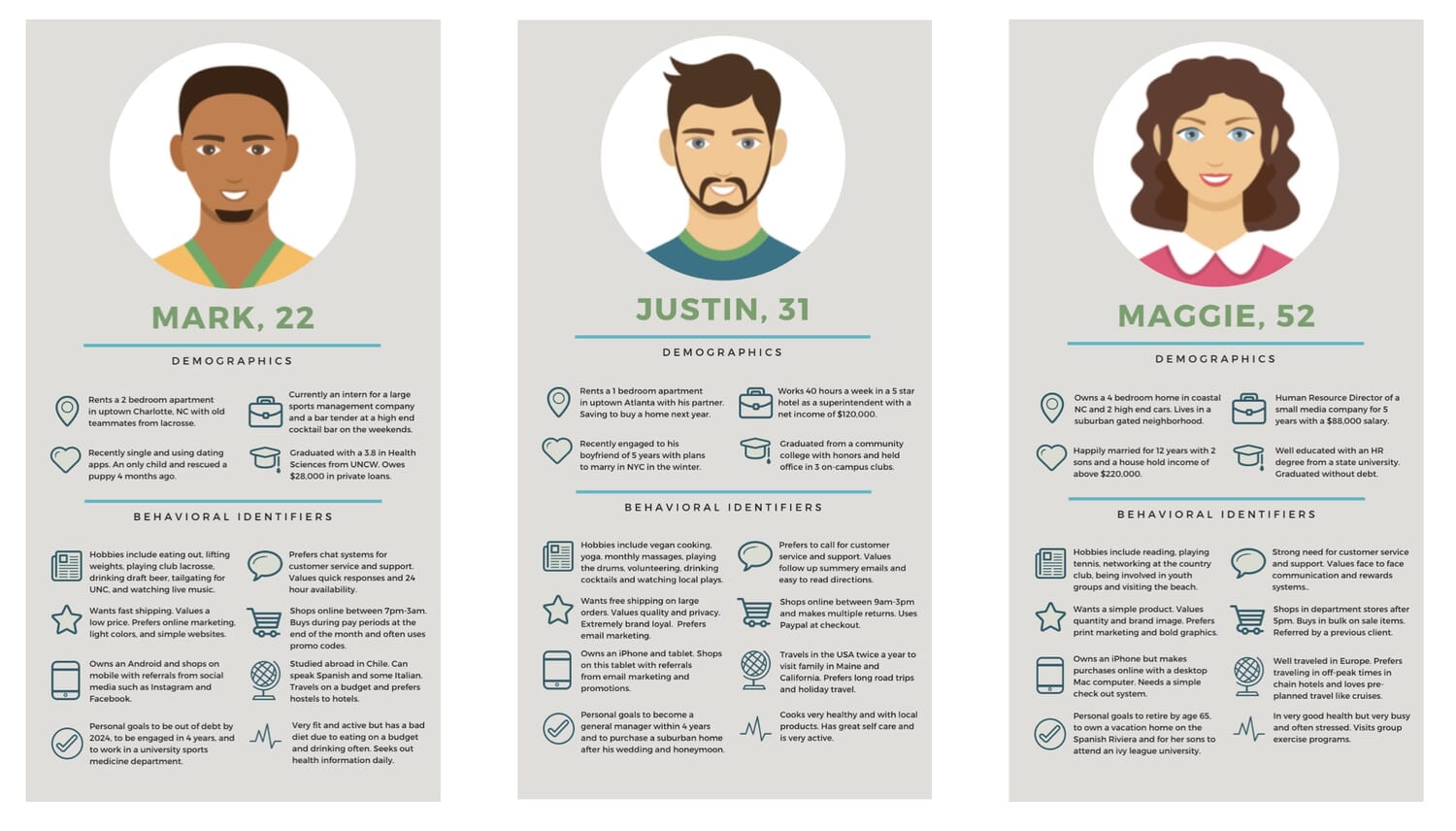 How Are Personas Created?
Before you can jump right into creating personas for your business you must first truly understand the audience you are trying to reach. You want to first conduct secondary research. You then use the knowledge gained from that to influence the primary research. Here you will be asking participants about their perceptions of the business, what they value, why they would recommend the organization to others, etc.
Below I have descriptions of the research types and the purpose they hold in creating personas:
Background Research (Secondary):
Background research involves looking at information already provided by the specific industry you are looking to create personas for. This can be industry reports, social media, or competition research.

This type is incredibly surface level, but it gives an effective look into what you should be looking for when conducting your future primary research
Qualitative Research (Primary):
Qualitative research is where the focus groups, interviews, and observations come into play. It is recommended for these to be conducted by a third party, so the participants give real and honest answers rather than what they think you want to hear

This data is non-numerical, meaning it is data gathered through observation or active communication. This is the most important because it is incredibly centralized to your specific goals.
Quantitative Research (Primary):
Quantitative research uses only numerical data. You can use CRM, surveys, or other technology tools to gather this data.

This creates insights on behaviors, actions, and goals. Not as effective as qualitative data, but still constructive if interviews/focus groups are not available.

Quantitative Data Tools:
---
Creation Process
According to usability.gov this is the best process to follow:
Condense: Look for relevant themes
Brainstorm: Organize data/themes into persona groups that represent target users
Refine: Combine and create rough personas. You should have 3-5 after this step.
Make Realistic: Develop rich descriptions of backgrounds, motivations, and expectations. No personal information or humor is allowed.
---
How Many Personas Should There Be?
There should be no less than 2 personas and no more than 6. You should always aim for about 3-4. This ensures that there are enough to accurately portray the different needs of the website's user groups. If there are too many, you have simply covered too much of the population, rather than the specific target audience your website is aimed at.
How Are Personas Used to Build Websites?
Personas answer almost all the questions you need without needing to perform usability testing and interviews every step along the way. They make it simpler to know the effectives and value of different elements on each page. It is important to have a professionally well-designed site to create credibility, but it is of greater importance to have a site that is easy to maneuver. You want your site to hold meaning for each of the different personas you created, so they feel it was made specifically for them and their needs.
Using Personas in the Design Process
There are so many ways that personas can be applied to design, whether this is textual, informational, or creative. Listed below are some of the main examples:
Tag Lines: Do your tag lines speak to/influence each persona?
Value-added Statements/ Calls-to-Action: Did your statements speak to your audience and make them want to continue to use your site?
Design: Is your design impressive, professional, and engaging for each of the groups?
User Experience: Is it easy and enjoyable to navigate through the site?
Features and Functionality: Did the website provide the personas with the tools to fulfill their objectives?
Social Media Integration: Does your site make the users want to share it with others on other platforms?
As you can see, personas make a huge impact in the world of web building. Something you may not have known existed is a tool used in nearly every website you use. So now that you have been provided the knowledge and tools for persona building, I hope you find success with it in the future!
If you'd like to learn more, visit these blogs!
Happy web building:)