The United States boasts a total of sixty-three National Parks. Huge swaths of land make up more than 50 Million acres and more than 2% of all USA Land. Including the National Reserves, Lakeshores, Monuments, and Historical sites, combined make up of 10% Of US Land
Over the course of a decade, I've been to seventeen National Parks, dozens of Reserves, Lakeshores, and Monuments. My family has hiked almost a hundred trails with varying intensity. I talk about my trips with a huge amount of pride, I'm so thankful to my family for fostering my love of travel. So let's talk about them a little more- below are some of my favorite hikes, what they entail, and how to survive them.
Zion National Park
Most people associate Zion National Park with Angels Landing or The Narrows. Two infamous, world-renowned hikes that require permits and serious dedication. Both hikes rage somewhere in the double digits for miles, and Angles Landing has almost 1,500 feet of elevation gain.
The Narrows (Left)
Angles Landing (Right)
We're gonna tone it down a little instead and talk about one of my favorite hikes: Canyon Overlook Trail. It's a small trail, just over a mile roundtrip, but what it lacks in mileage it makes up for in views. Canyon Overlook delivers exactly what it's named: stunning views overlooking the canyon of Zion and the Towers of the Virgin that sprawl for miles. Zion's trademark red-orange and white sandstone cliffs frame a beautiful photo. You will have to hike up sheets of rock and across a small cave opening, occasionally holding onto handrails, but nothing too terrible.
What You'll Need
Sunscreen & Sunglasses
Water, usually about a liter
Hiking Poles. Optional, but well worth it
Canyon Overlook- End of Trail Views
Bryce Canyon National Park
Sticking in the state of Utah, Bryce Canyon National Park is a must. Rich with history and geology, Bryce Canyon is known for it's 'Hoodoos'- large columns of sediment turned bronze and red by the iron with formations seldom found anywhere else in the world. You'll find spots like Thors Hammer and Sunrise Point to overlook the valley.
There are so many opportunities in this park, but my personal favorite was the Queen's Garden and Navajo Loop Trail combination. It's about a 2-3 hour hike, from the edges of Bryce Amphitheater, to deep in the valley among trees and brush, the most tedious bit of this hike will be the switchbacks. Be prepared for the heat too if you travel in the summer. Be sure to pack plenty of cold water and sunscreen for this one.
Bryce Canyon Amphitheater, switchback at the end of the Navajo Loop Trail
What You'll Need
Sunscreen & Sunglasses
Water. This trail is three miles in the desert, carry a liter or two
Hiking Poles. Optional, but well worth it, especially with the switchbacks
Glacier National Park
We're going to head north a bit to big sky country Montana, Glacier National Park. Over 1 million acres of land, it's composed of about 25 active glaciers that move and thaw. It's one of the few national parks that partners with Canada, bordering with one of their national reserves.
This one is going up a notch- the Grinnell Glacier Trail is almost 11 miles with about 1,600 feet of elevation gain. You're hiking in the Rocky Mountains, which means you'll be walking over sheets of rock and alongside mountains and lakes. It's nothing short of magical, and you'll see tons of wildlife. Hikers have reported Moose, Grizzlies, Mountain goats, and others.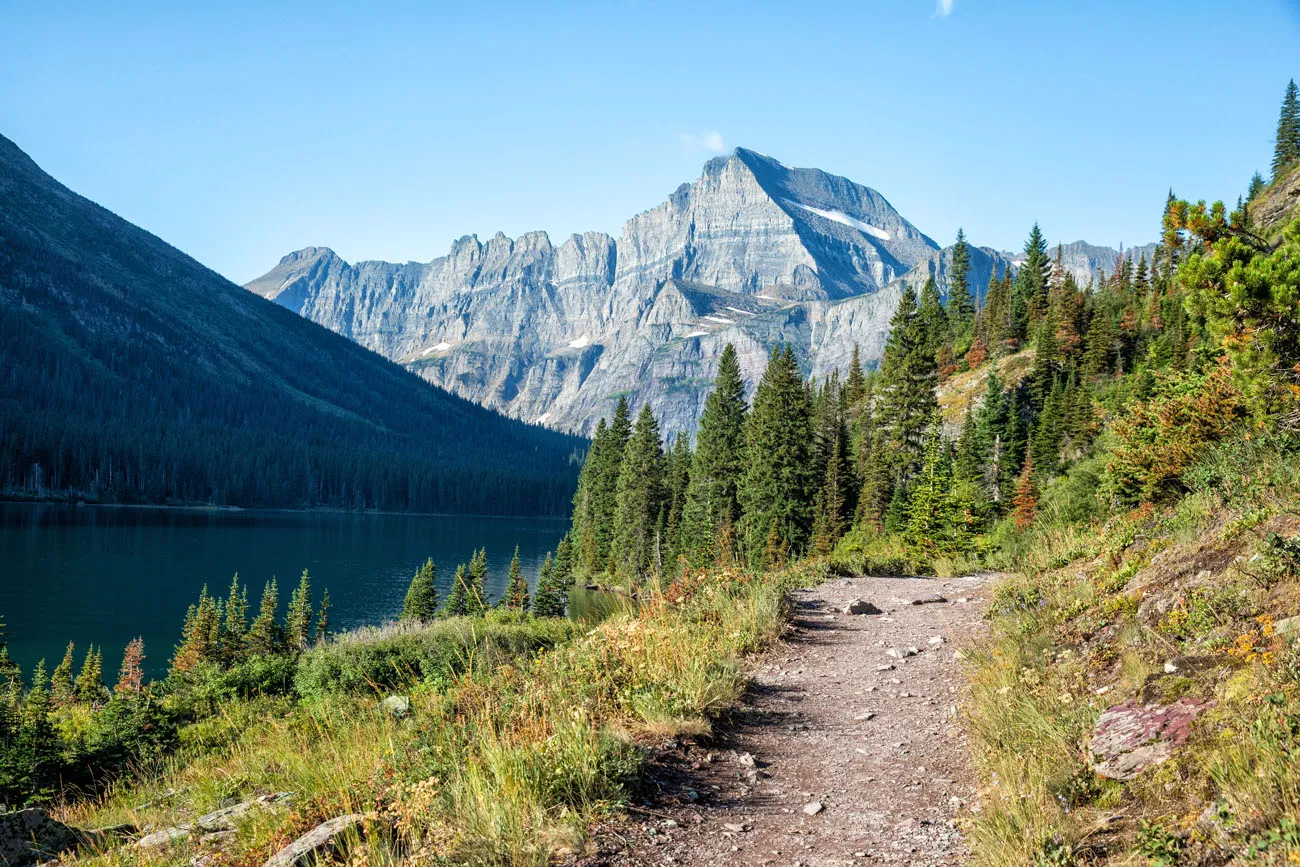 The closer you get to Grinnell, the steeper the trail gets. Hiking poles are non-negotiable, you're going to need them. My family bought water backpacks (camelbacks, for anyone wondering about brands) and they are a huge help. Traditional they hold two liters of water and sling over your back like a backpack. They've got little pockets and drawstrings so we carry our own snacks and jackets.
You'll want to start this trail early in the morning- parking is tight in Glacier (even though you need a pass to get into the park in the first place) and this is a long one. By no means do you have to hike the whole thing, here are a couple views along the trail just to show you how beautiful every step is:
And below is your destination: A glacier and it's lake that looks back out onto the mountain range with stunning views in every direction.
What You'll Need
Light Pants and jacket- if you start this early in the morning you'll be a bit chilly, but you'll warm up fast as you start hiking
Water, two liters at least. This is an intense hike, not for beginners, water is crucial
Hiking Poles. These are good since there are waterfalls along the trail that can make the rocks slippery
Snack and meals. Sandwiches and trail mix work really well
Bug AND bear spray. Oh yeah, we're in grizzly country which means you need to learn how to operate bear spray and when to use it.
Hat, sunglasses, sunscreen, and really, really good shoes. You'll be hiking on rock for almost the whole trip. Ankle support and good insoles are a necessity.
Acadia National Park
In the complete opposite direction on the east coast lies Acadia National Park. The only national park in New England sits in Maine. Cadillac Mountain is a stunning, rounded mountain with plenty of places to walk, explore, have lunch, and take pictures. It's the highest point in the park and on the eastern seaboard, and overlooks Bar Harbor and its dozens of islands.
It's a nice change of pace from Grinnell because if you need a break you can drive to the summit of the mountain. There's plenty of open space to walk around in with little to no intense hiking if you're not in the mood, and a gift shop for my more relaxed people. There are plenty of paved trails and outcrops for wheelchair needs or for some older folk.
If you do choose to hike (or cycle!) up the mountain, it's around 6 miles with a steady incline. There's a few trails leading up not along the road, but cyclists should be aware of cars coming up and down.
What You'll Need
Sunscreen & Sunglasses
Water, or maybe some other fun non-alcoholic drinks, since this is a more relaxed site
Some good shoes, no flip-flops or sandals, you're at the top of a mountain, so walk around and have fun but be careful
Food! But please practice leave no trace and pick up all your trace and leave your surroundings better than you found them
Money, that gift shop has got some good stuff
Cuyahoga National Park
Cuyahoga Valley National Park is one of the most visited national parks in the country. It sits near Akron and has a huge interstate that makes it an ideal pit stop for travelers. While the visitor's center and mosquitoes leave much to be desired, there are a few hidden trails here that have remained my favorite for years.
The Ledges trail is a beautiful, easy walk that runs along the Appalachian Mountains. Filled with huge boulders and dozens of opportunities for exploring, this is a great trail to go with friends or older kids. You'll be walking on a combination of boardwalks, gravel paths, and some flat (but sometimes wet and mossy) rock, so be a little cautious.
What You'll Need
Good shoes- traction and ankle support people
Water, a liter should do for this one
A light snack or two
Paints or pencils! There are so many spots along this trail that end up looking over the Appalachian mountains, and it makes a beautiful picture
First aid- in case any of you slip on some rocks, be sure you've got some anti-bacterial medicine and bandaids
Lakeshore
We're going to switch it up even more for this last recommendation and turn to something other than national parks.
Michigan is the home of the Great Lakes, and much of its coast is dedicated to National Lakeshores, probably most famously Sleeping Bear Dunes. Empire Bluff is my personal favorite. It starts in the dune trees, peaceful and very green, and as you start to ascend the dunes the ground gets a bit sandier. You'll need either some good shoes or sandals (Keens and Teevas are my personal recommendations.) You'll end up on the boardwalk too, and the trail is only 1.5 miles roundtrip.
Empire Bluff Trail, Sleeping Bear Dunes
The infamous dune climb. A huge dune right off the water of Lake Michigan has a warning sign, telling hikers that if you brave the biggest and steepest dune on the Lakeshore, if you fail the trip back up, be prepared to spend $3-4,000 on a rescue.
There are plenty of overlooks and benches too, a perfect place to bring a picnic and a camera and just relax in the sun.
That's the list! I could go on and on about even more beautiful trails: Blue Ridge Mountains, Rocky Mountain National Park, Grand Teton, and Canyonlands are all still some more of my favorites. But don't take my word for it- Go make your own list, the US has Millions of acres of protected land that's just waiting for you.
Go get that horizon, practice 'leave no trace', be kind to nature, and stay safe!